You CAN Go Deeper Into Your Faith
The message of Christian salvation is simple, such that it can be grasped by anyone anywhere. And yet the faith itself is not: because we seek to know a God who surpasses all categories, we are met with perplexing claims at every turn: 1 = 3, 2 = 1, the immortal God died, and so on. There is so much more to Christianity than the message of salvation.
There are as many theology books out there as you like that dive into the depths of these questions, leaving behind the preliminary answers we get in Sunday School and even from the pulpit. But these books expect a certain familiarity with concepts, discussions, and terms that the Christian who has not attended a seminary does not often have. And so you are excluded from going deeper because you did not order your life around formal theological studies.
But what if you could gain the familiarity required to dig into primary texts for yourself? What if you were freed from dependence on books that bring theology down to its most basic, and enabled to confidently read for yourself the thoughts of the greatest Christian thinkers of the past and today? Imagine how that would unlock not just your study, but your worship and your prayers.
I firmly believe you shouldn't have to go to seminary to go deep in your faith.
I spent many years teaching at seminary, and I can tell you that there is no need for this to be the case. But the reality is that there are few to no courses or programs outside those walls for the layperson to become initiated into theological discourse. That's why I created Theological Literacy.
This course will give you the tools required to go beyond the correct but truncated answers you have been given to your deepest questions about the faith. Without challenging the truth of the Trinity or the divinity of Christ, you will be empowered and ushered into deeper reflection about these truths. At the end of the course, you will think and speak with confidence about the intricacies of these doctrines. More importantly, you will be prepared to open a whole new chapter in your worship of God with your mind.
So let's get you started on the path to theological literacy, and discover what more God has been waiting to show you.
Every other Tuesday, 7:00 - 9:00 pm (CST)
February 7 - April 18, 2023
registration deadline February 4, 2023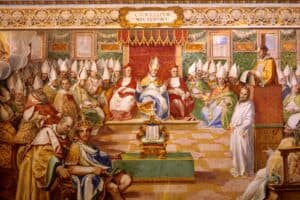 We will cover:
Week 1: Divine Attributes and the Divinity of Christ
Plato, Arius, Athanasius and the Council of Nicea (325 AD)

Week 2: The Trinity
Gregory Nazianzen and the First Council of Constantinople (381 AD)
Week 3: Christology
Cyril of Alexandria and the Council of Ephesus (431 AD)
Week 4: Atonement Part I
Anselm of Canterbury and the Satisfaction Theory (1094-1098 AD)
Week 5: Atonement Part II
Anselm of Canterbury and the Satisfaction Theory (1094-1098 AD)
Week 6: Grace
Thomas Aquinas and Bonaventure
If you've been reluctant to take a theology course because you think you'll be in over your head, you should go for Dr. Johnson's Theological Literacy course. You will be reading challenging works by Aquinas, Bonaventure, St. Anselm and more, but the best part is that Junius makes it all understandable and super interesting. He guides his students towards the discovery of deep and meaningful truths through engaging discussions and well-organized lectures. I learned more in this six-week class than I have in twenty years of reading and listening to sermons. I think every Christian should take this course!

I just finished the Theological Literacy class and it was a great experience! Dr. Johnson's passion for the subject is evident as he walked us through the various nuances of Theology.  Junius does a great job of keeping us engaged while shedding light on complex concepts that I honestly didn't even think twice about growing up.  The best thing is that I have grown in my relationship with God on a personal level due to meditating on the truths we've discussed in class and it's challenged me to not take for granted any piece of "truth" that I may have uncovered.  I can't wait to see what else Junius has in store for his course offerings!