Connecting Your Child's Imagination with Their Learning
"To learn to read is to light a fire."

Victor Hugo, Les Miserables
Reading books is the number one way to push back against the limitations set to your life by time, space, culture, economic realities, and peer pressure. The world is immediately unlocked the moment you open the pages of a book. And not just our world, but worlds that exist in the dreams of other readers like you, worlds that are not less real than our own even though you can only get to them if you travel by imagination. There is no greater gift we can give our children than the ability to read well paired with a love of reading well.
However, something in formal education, even in its best forms, does not obviously fit well with the description of reading I gave above. It's all very well to talk about passports to other worlds and wormholes to other realities as long as one is free to curl up in a blanket with a mug of hot cocoa and lose the entirety of a Saturday in pure joy and irresponsibility. But it is quite another when you are meant to read 80 pages by Friday, and turn in 5 questions about the reading, and be thinking of a theme for your essay on the reading. Suddenly the very thing that was the casting off of the shackles of cruel oppression has been enlisted by the tyrant and serves only to add more tonnage to our chains.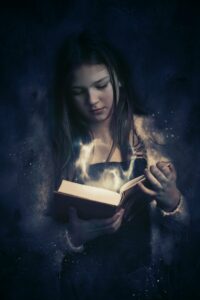 This is a problem of disconnection. It shouldn't matter whether I'm reading Narnia because I love it or because it's been assigned; the point is that I'm reading Narnia. But to a child, the disconnect is real, and a great book can be ruined by its context in a formal literature class.
What I aim to do in this session is to help you approach your child's reading of books, both for school and fun, in a way that overcomes that disconnect. I want to suggest ways you can help them read the books they choose for themselves more deeply. And when they do so, it will be easier to read the books chosen for them more joyfully. I think we can do quite a bit to sow a love of reading for all purposes, not just for sheer delight.
Tuesday, April 12, 2022
7:30 pm (CDT)

Free Zoom event, registration required
Recording will be made available to all registrants after the event
This is a free Zoom session. Registration is required, and all registrants will be given access to the recording. Click below to register now!

"Thought-provoking talk and interesting followup discussion."

"This is a friendly, informal format where you can learn and share ideas about different aspects of faith. Junius as leader is welcoming, encouraging, real, orthodox, very knowledgeable, and clearly loves the Lord and loves people."